Bismarck-Tower
1908 until today!
The Bismarck-Tower is over one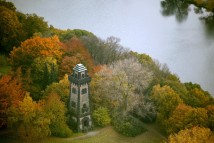 hundred years old. It was opened in 1908 in honour of his namesake Otto von Bismarck on top of the "Kahlenberg".
The construction was made possible by a donation from Dr. Hermann and Margarethe Leonhard (born Stinnes), who initiated a foundation. Their nephew Dr. Gerhard Küchen chose the location and supervised the building project.
The conceptual design originated from Mulheim's head of the building department, Carl Linnemann. On Bismarck's birthday, April 1st, the tower was finally opened in 1908.
First, is was home to several events and festivities and used as an observation platform because of its great views over the Ruhr Valley.
During WWII, flaks were stationed there and until 1956 the british troops used it as a transceiver. In the 1970s, plans turned up to pull down the tower in favour of new skyscrapers. But 94% of Mulheims citizens decided against these political plans and the tower remained.
Since the summer of 1998 the tower, which is one of the last of its kind in the whole Ruhr area, is open again for visitors, who want to enjoy the fantastic outlook.
The basement is used as an atelier by local artist Jochen Leyendecker. Visitors are welcome to watch the creative work process of his sculptures.
Opening hours: Between 1st March to 31st October daily, except Monday and Saturday from 3 pm to 5 pm.
Address:
Bismarckstraße 22
45470 Mülheim an der Ruhr
Further information:
Jochen Leyendecker
Tel:/Fax: +49 / 208 / 3 88 08 00
E-Mail: jochen.leyendecker@web.de
http://www.jochen-leyendecker.de/
public transport:
tram 104 from "Stadtmitte"
to "Wasserstraße" or "Max-Planck-Institute"
Kontakt
Stand: 03.01.2018