Haus Ruhrnatour (Ruhr Nature House)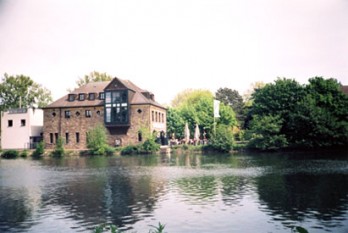 In a historically protected former boathouse the RWW Rheinisch Westfälische Waterworks Company have built a natural history museum of a special type. At 21 almost completely interactive stations visitors of all ages are able to study the flora and fauna of the Ruhr and the Ruhr Valley.
Two big fish tanks show the most important fish of the region and lots of excursions and experiments complete the offers of Ruhr Nature House.

Opening times: Tue to Sun 10 am to 6 pm

Admission fees: Adults 2,00 EUR, children, groups and other reductions 1,50 EUR, families 5,50 EUR
Groups for guided tours and excursions are requested to make a reservation in advance!

Adress:
Alte Schleuse 3
45468 Mülheim an der Ruhr
Tel.: +49 / 2 08 / 443 3380
Fax: +49 / 2 08 / 443 3381
E-Mail: haus-ruhrnatur@rwe.com
www.haus-ruhrnatur.de

Public transport:
Tram 901 or 102 to "Schloß Broich" and further 5 minutes to walk, buses 132 /133 /752 to "Kassenberg" or bus 151 to "Wilhelmstraße"
Kontakt
Stand: 25.09.2012