Historic Museum Broich Castle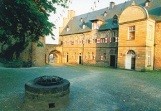 The Broich Castle and surrounding area is one of many jewels of Mülheim for sight-seers and visitors. 883 AD this Carolingian castle was built to protect Mülheim against the raids of the Normans. It came though medieval cannonade as well as the "Thirty-Year-War" and became a counts residence in 1648. At the time of the French Revolution (1789) it was owned by the grandmother of the Prussian queen Luise, mother of Wilhelm I. The history of the castle is shown on two floors with models, pictures and other artefacts and handled by the local history society.

Opening times: Sat and Sun 11 am to 5 pm
Guided tours on request, please contact Tel.: +49 / 2 08 / 48 95 43

Admission fees: free, guided tours 2,00 EUR per persons (school classes 1,00-1,50 EUR)

Public transport:
Tram 901 or 102 or buses 122/131/132/135/752 to "Schloß Broich"
Stand: 25.09.2012