Liner trips to Essen-Kettwig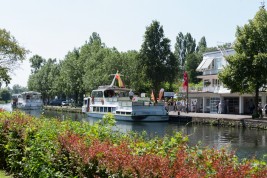 We like to welcome you aboard! Here you'll find all information about regular liner trips between Mülheim Water Station and Essen Kettwig as well as the fares: www.weisse-flotte-muelheim.de

For all liner trips: special catering requests may be made in advance!
If you have further questions or if we can be of further assistance, please let us know.



Address: Wasserbahnhof (Water Station), Alte Schleuse 1, 45468 Mülheim an der Ruhr

(if you use a navigation system, please choose "Auf dem Dudel")
A number of parking spaces are available on the Lock Island, otherwise you'll find a big parking lot for free next to the municipal hall (10 minutes walk).
Please be aware that our boats may not be suitable for wheel-chair-uses and there are many steps to climb in Essen Kettwig.

For all questions please phone our office: Tel.: 0049 208 / 960 99 96,
E-mail: weisseflotte@btmh.de
Kontakt
Stand: 08.09.2017