Local Museum "Tersteegenhaus"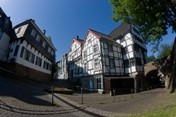 Gerhard Tersteegen, after whom this house was named, was born in the nearby city of Moers in 1697. He lived in this house until his death in 1769 and became a famous religious writer and pietist. The sculpture of Dr. Carl Arnold Kortum (1745-1824) is also presented here. In these rooms the visitor will find furniture and household items from the 18th and 19th century as well as other precious historical exhibits. The Tersteegenhaus stands on the historic churchhill in the old town and is one of the few houses that survived the bombing attacks during WWII, resp. was rebuild afterwards.


Adress:
Teinerstraße 1
45468 Mülheim an der Ruhr
Tel.: +49 /208 / 455 4260
! Please note that the Local Museum Tersteegenhaus is temporarily closed due to renovations!
Stand: 07.08.2017