Mausegatt Settlement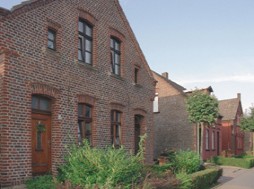 The settlement Mausegatt/Kreftenscheer – the former pit-colony Wiesche – was built between 1899 and 1911 by Hugo Stinnes and August Thyssen. To keep their workers, they wanted to provide housing for them. In these days, work in coal-pits was easy to find and trained workers sought after a better life. Thus, if offered an increase in payment or comfort, workers would go somewhere else.
It was for this reason and a general housing shortage that the Mausegatt settlement was established. At the beginning of the last century, the settlement consisted of 106 semi-detached houses and was inhabited by about 1.000 people.
During the 1960s, the pits in Mülheim all closed down. The last one that closed was in 1966 the "Rosenblumendelle" pit.
The former miners looked for new jobs, but stayed in the old pit-houses at Mausegatt on a rental basis.
In 1977, it was decided that most of these houses should be renovated and sold but the residents formed an action group and won the rights to either buy them themselves or rent them on a lifelong basis.
The action group later became the residents' community, looking after the conservation of the settlement. Today, Mausegatt is a historically protected settlement and looks almost as it did 100 years ago. Last but not least, it is also one of the last authentic and typical pit-settlements in the entire Ruhr area.
Visitors can reach the Mausegatt settlement from the motorway A40, exit "Heißen" then turn into "Frohnhauser Weg" and drive on until junction "Velauer Straße". Turn right here, then second left into "Mausegattstraße".
Kontakt
Stand: 09.10.2017