Municipal Hall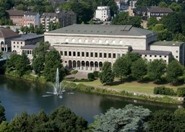 When historical building meets modern congress centre: On 11th October 1957 the municipal hall was reopened after its near destruction during WWII. The hall soon became the cultural centre of the town. In 2007 – now under monumental protection – it was renovated and furnished with modern standards for an all-round meeting-and-congress-centre inside.


History: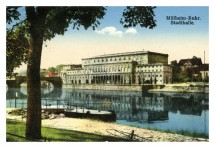 Mülheim an der Ruhr became a real city with about 100.000 inhabitants and the cityscape changed fast in the following years. Impressive architecture, like the synagogue at the Viktoriaplatz (Viktoria Square), the public bath on the banks of the Ruhr or the town hall signified this development. In 1923 the construction of the municipal hall started opposite of the public bath. The building plans were created by the architects Großmann & Fahrenkamp, who designed a palazzo-like hall in light natural stone.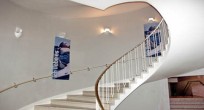 Finally in 1926 the municipal hall was inaugurated. During the 1920s and 1930s it became the most lively spot in the city with theatre plays, concerts and other cultural highlights as well as a restaurant and a very nice terrace close to the Ruhr.
The heavy bombings of the year 1943 did not spare the municipal hall and huge demolitions took place near the end of the war. It was not until after 1957 that the building was renovated and restored and could reopen in autumn of the s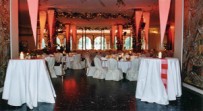 ame year.
Its unique location at the banks of the Ruhr possesses mediterranean flair and since the late 1950s its cultural relevance for Mülheim an der Ruhr quickly returned. The annual theatre-festival "Stücke" is one of the most famous happenings, but concerts, musicals, cabaret and exhibitions also represent the wide range of cultural offers. Apart from this, the "parlour" of Mülheim is always a good place to celebrate: galas, jubilees and lots of other festivities.
Municipal Hall - Official Website
Kontakt
Stand: 25.09.2017