Old town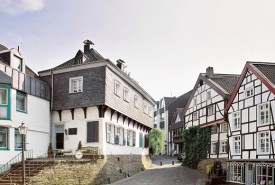 Entering Mülheim's old town is like opening a door into another world. Only a short walk away from the bustling city centre – above the "Leineweber Street" – the old town captivates the visitor with its quiet cosiness between small alleys and framed houses. The Church of St.Peter stands on the historic Church hill and dominates the centre of the old town with its majesty and beauty.
The first settlement at this spot was probably built around the 6th or 7th century. In medieval times a mounted court was situated on the "churchhill", exactly where you'll find St. Peters Church today: the "Muhren-Court" with its farm buildings, the so called "Elder-Court". Together with the chapel this mansion built the first settlement in the old town. Later the chapel became St. Peters Church.
Probably built on the ruins of the old court, St. Peters Church had been the cities highest building for a long time. Its slightly crooked steeple was a well-known landmark in Mülheim until it was destroyed during a bombing in 1943 in WWII. Since then, the steeple was replaced by a steel construction. The now protestant church is also downtowns oldest assembly room, which is still in use today.
Much later the second church, the catholic St. Mariae Birth, was built in cubism-style on the "churchhill" in 1928/1929 by the architect Emil Fahrenkamp.
Some famous citizens inhabited the old town: The poet and doctor Carl Arnold Kortum, born in 1745 was one of them. He died in 1825 in nearby Bochum and is the author of some publications, the best remembered one is the "Jobsiade", which tells the story of candidate Hieronimus Jobs with a wink.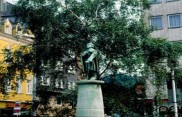 In the night of the 22nd June 1943 most parts of the old town were destroyed by bombs of allied aircrafts. The fountain with a bronze-figurine of the above mentioned Jobs, also fell victim that night. In September 2006 a new fountain with the sculpture, that was fortunately saved in 1947 from a scrap heap in Hamburg, was inaugurated.
Gerhard Tersteegen a preacher and sexton, was born in 1697 in Moers and lived in Mülheim until his death in 1769. The so-called "Tersteegenhaus" – right in the shadow of St. Peters Church and today a museum for the local history, was his home.
Apart from its historic interest, the old town has always held many restaurants, pubs and bars, however, numerous were destroyed in WWII. Today the old town's restaurants are a hotspot again and pamper guests with their homemade cuisine.
Old Town Cemetery

The atmosphere of the nearly 200 years old cemetery, situated at the edge of in the old town, is very special and worth a visit. Its mossy gravestones from past centuries show many famous names of citizens, who were buried here. The families of Thyssen, Stinnes and Troos were of great importance to the town's history and rest here in peace now.
Kontakt
Stand: 18.09.2017