Racecourse Raffelberg

The racecourse is situated on 40 hectares of land in the district Mülheim-Speldorf, not far from its neighbouring town of Duisburg. It is the oldest sports-ground in Mülheim and was opened on September 29 1910.
During WWII the racecourse was nearly destroyed due to bombings, but very soon after the war ended, the first race was held in October 1946. Since then, the racecourse "Raffelberg" regularly invites approx. 5.000 visitors to its well known horse races.
In recent years, a 9-hole-golf-course was established in the middle of the course to offer even more leisure activities in that area.
More information about the racecourse ...here


The golf club Mülheim Raffelberg was founded in 1999 and is a member of the DGV (German Golf Association). On its terraces and in the beergarden you can enjoy the view over the golf course as well as follow the horse races from there.


Golfclub Mülheim an der Ruhr Raffelberg e.V.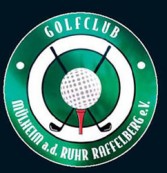 Akazienallee 84
45478 Mülheim an der Ruhr
Tel.: 02 08 / 58 05 69-0
Fax: 02 08 / 58 05 69-9
E-Mail: info@srs-enterprise.com
www.srs-enterprise.com
www.turftreff.de
Kontakt
Stand: 25.09.2017