Saarn Cloister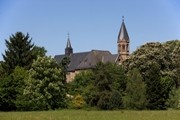 Founded in May, 1214, Saarn Cloister became a convent for Cistercian nuns in 1216. This was manifested by an abbess Wolberna in a message, that was found in 1650 in the cloister church. It was the first of its kind for nuns from this holy order. The church was donated by the lords of Broich Castle, as an entry in the cloisters memory-book certifies. The same master, Henry from Broich, also generously donated several acres of land estate.
The above mentioned abbess Wolberna founded another branch of the cloister in the same year in nearby Kaarst. When in 1237 the properties were divided, a growth of assets was noticeable. Things got even better as the archbishop of Cologne, Engelbert count of Berg (1216-1225), sanctified the burial site of Saarn. He also attended to the poor cloister and arranged for the circumjacent landowners to bestow it with the wooded estate "Buchel". Pope Honorius III. placed the cloister under his personal protection in 1223 and the cloister grew further by the end of the 13 th Century, when the number of donors increased and the number of nuns rose to 30.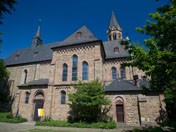 The Cloister Saarn experienced a lot of changes in the course of time. During the Spanish Wars at the turn of the 17th century, the cloister fared quite well, but the severe rules of Cistercian life were not always obeyed. Therefore abbess Margarete of Holtorp was deposed from her office in 1619 and succeeded by the new abbess Anna of Deutz. She lost her function in 1642 as well. Then the papal legate Fabius Chisius, the later Pope Alexander VII, was charged with the reorganization of the cloisters life.
In the 18th century many gravestones of the abbesses had vanished. Some were rediscovered in a rotten and decayed cloister in 1960 by Minister Mengen.
In 1936 the city of Mülheim an der Ruhr took over the premises of the cloister. Flats for elderly people were built, but further renovation was stopped by WWII. Only in 1960 the buildings of Saarn Cloister were recovered considerably. Since autumn 2008 a small museum informs visitors of the nearly 800 years of history of Saarn Cloister.
Begegnungsstätte Kloster Saarn
Klosterstraße 53
45481 Mülheim an der Ruhr
Tel.: 02 08 / 48 75 55
Kontakt
Stand: 11.10.2017