Shopping: Rhein-Ruhr Zentrum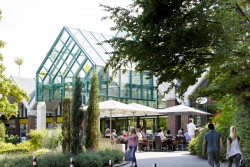 Nearly 200 shops and services, cafés, bars and restaurants await the visitor of the mall "Rhein-Ruhr Zentrum". Branches of all kinds present themselves in an air-conditioned and weatherproof shopping mall – an entertaining shopping trip for the whole family!

Parking spaces: the Rhein-Ruhr Zentrum offers 5.500 free parking lots and there are special parking lots for handicapped people close to the entrances. An information desk in the basement provides answers to all your questions. If you lost something: lost properties will be kept by the lost property office for three months and can be retrieved there. Always ready money: four cash pools are available in the mall, as well as a post office.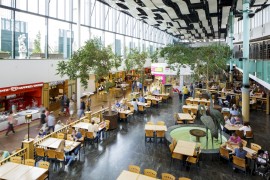 Where are the busses and the tram, where to buy tickets? – there's a selling point of the local public transport MVG at the bus stop at the "Stinnes" skyscraper. There is also a rental service for buggys and kid-cars as well as for wheelchairs and electromobiles – available at the information desk in the basement. For the kids we offer special surprises: The EuroEddy FamilyFunCenter is a playground, where children can amuse themselves, frolic and play. Meanwhile the parents can enjoy their shopping, a lunch in one of our restaurants or go to a movie in the cinema.

In the FestivalGarden you'll find a CineMaxX with 11 movie theatres, and on Tuesdays you'll save 50% admission. In Joe's Superbowling you can bowl in a relaxed atmosphere, play billiard or enjoy the restaurant's offers. The sports supplies provide many events for the whole family.

To answer your questions our team at the information desk is available from 10 am to 8 pm from Monday to Saturday – here you get also information on the regular events of the mall Rhein-Ruhr Zentrum.
Kontakt
Stand: 02.11.2017