Theater an der Ruhr/Raffelberg-Park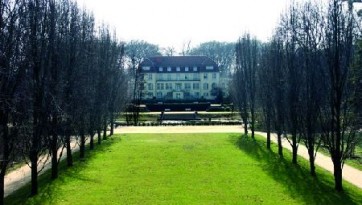 Park and the former saline bath "Raffelberg"
The historic Raffelberg Park in the district of Speldorf belongs to the former saline bath Raffelberg. Today, the premises domicile the internationally well-known Theatre an der Ruhr. In 1981 the theatre moved into the small theatre hall of the old casino for several performances. After renovations in 1996 it permanently moved there.
The Raffelberg-Park was created by garden-architect Baron von Engelhardt with terraces and sweeps of steps offering unique views upon the Ruhr landscape. Extensive restorations took place in 1998.
A short history of the saline bath: Opened in 1909, the saline bath Raffelberg got the saline from the nearby pit in Oberhausen Altstaden. Through the sinking of a shaft in 1855, the underground, salt-laden watercourses, relics of a prehistoric ocean, were discovered. Soon the miners discovered the healing effects of this water. First there was a small saline bath directly on the pit-grounds in Oberhausen that was only for the children of the miners.
Later, plans were made to build a real saline bath close to the Ruhr for all sick people – young and old. In only 15 months the new premises were built on the terrain of manor "Raffelberg". When the pit was closed down in 1973 the bath switched from using natural to using artificial brine. This change did not appeal to their guests and the saline bath was eventually closed down in 1992.
Kontakt
Stand: 25.09.2017