Water Station / Lock Island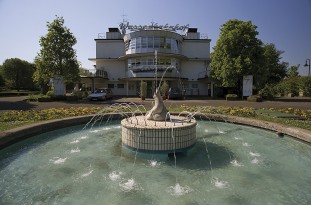 The Water Station in Mülheim, idyllically situated on the "Schleuseninsel" (Lock Island), has been an extremely popular destination for locals as well as tourists for years and years, especially as a day trip destination.
A floral sundial – dating back to 1853 – and a fountain are rounding off the holiday-impressions of Lock Island. Popular restaurant "Franky's" invites guests to stay and enjoy a tasty meal or simply relax with some drinks in their beer garden. The building that houses the restaurant was established during the 1920s and is based on the shape of a ship's bow.
To spend leisure time, Lock Island also offers a variety of walking and cycling opportunities. The historic lock is the so-called "entry door" to this area and a last reminder of the busy times of the industrialization. It was in 1460 that the first coal was found in Mülheim an der Ruhr, but the transport of coal to the Rhine and beyond was only possible after the lock was built in 1780.
In spite of the manual operation, every 10 to 15 minutes a ship passed through at peak times. In 1927 – after the Kahlenberg Barrage was built – the water level of the Ruhr rose 1.5 m. and the Lock was modified. In 1993/1994 it was completely renovated and is still in use for leisure time traffic, like canoes, small boat, yachts and the White Fleet.
Kontakt
Stand: 28.02.2017