Shopping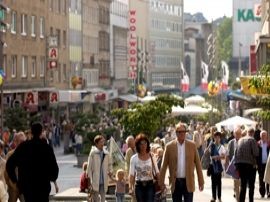 There are many shopping opportunities in Mülheim an der Ruhr. The city centre around the "Schloßstraße", which was one of the first German pedestrian zones, and the smaller side streets provide a wide range of offers and shops for every taste and necessity.
For a comfortable break during your shopping trip there are many cafés and restaurants downtown as well as in the historical old town. If you prefer a rustic, cozy pub or one of the well-known and popular restaurants along the river – you'll find friendly service and a wide range of food for your well-being.
Furthermore: Opened in 2014, the city harbour connects the city centre with the Ruhr. Enjoy a relaxed break near the river, with an ice cream parlour, the restaurant "Mezzomar" and the "König Pilsener" brewery's new tavern.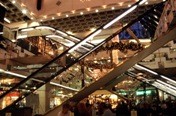 Rhein-Ruhr Zentrum
Situated near the border to our neighbour town Essen, the best-known mall in the Ruhr Metropolis offers more than 200 shops and restaurants... more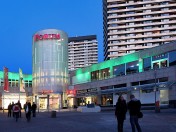 FORUM City Mülheim
The downtown shopping mall near the central station provides about 120 different shops for your convenience...more

Stand: 19.10.2017